Hybrid Tanks
Arpico Hybrid's function oriented features include a state of the art monocoque diagonal design for maximum strength. A screw lid seals the tank, preventing insects and dirt from contaminating the water. The Hybrid's wide opening and strong base ease the cleaning process whilst its strengthened shoulder lugs enable easy lifting and anchoring of the tank. Aerodynamically designed, the tank can withstand strong winds and maintains a moderate water temperature through fluctuating weather patterns.
Incorporating the premium, multi-layer technology used in Arpico's Triple Layer Tank, the Hybrid offers a threefold commitment to quality water storage. Each layer serves a function beginning with the innermost white layer which determines the freshness and purity of the water, providing a clear visual backdrop. The insulating properties of the middle layer keep the water cool by minimizing the absorption of heat, and plays the key role of preventing algae formation. The outer Layer protects the water from harmful ultraviolet rays of the sun.
Customised Outer Colour-3 Designer Colours to Match Your Roof!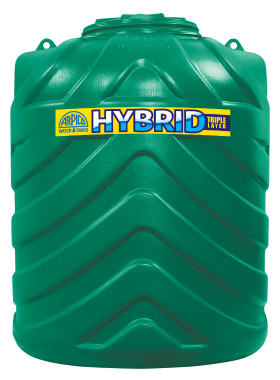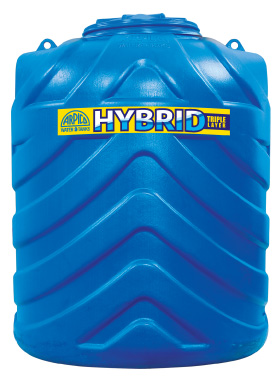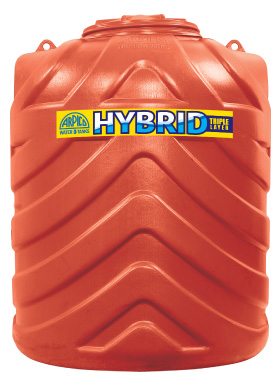 Maximum Strength

Ensures No Dirt Contamination

Strengthened Shoulder Lungs

Protection against UV Rays

High Standard of Hygiene & Safety

Withstands Strong Winds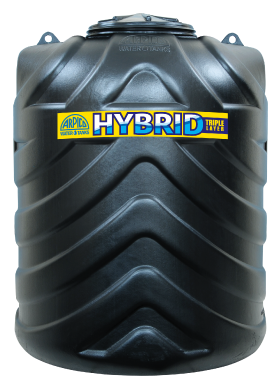 Only the Black tank is available for purchase as Two Layer or White Layer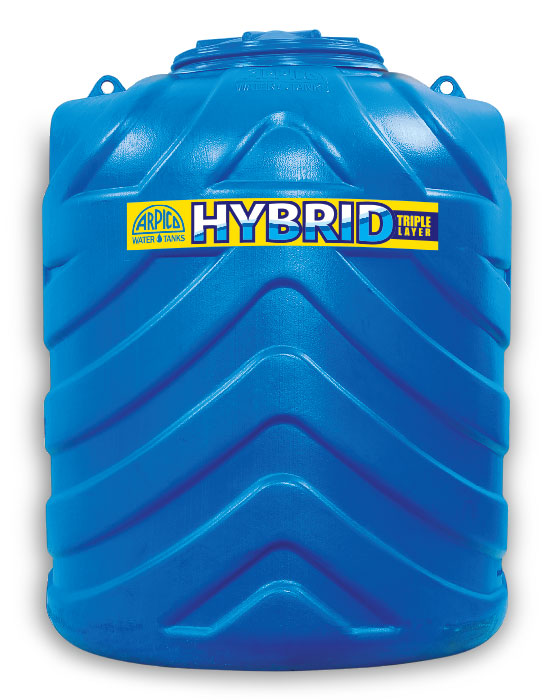 Sate of the Art Monoque Diagonal Design for Maximum Strength.

Sealed Type Screw Lid Protects Against Insects and Dirt Contaminating water.

Stregthened Shoulder Lugs for Easy Lifting and Anchoring.

Widest Opening and Strong Base Make Cleaning Easy.

Inner White layer Determines Frehness and Prity of Water.

Aerodyamic Design Withstands Strong Winds and Keeps Water Cool.
DIMENSIONS
CAPACITY
500 L
1000 L
2000 L
Overflow 32 mm
DIAMETER
860 mm
1090 mm
1375 mm
Outlet 50 mm
HEIGHT WITHOUT LID
1085 mm
1320 mm
1590 mm
Washout 32 mm
HEIGHT WITH LID
1160 mm
1392 mm
1665 mm
Inlet 32 mm